Christian Fiction Scavenger Hunt Stop #11
Posted Mar 14 2019, 1:00 am
Christian Fiction Scavenger Hunt Stop #11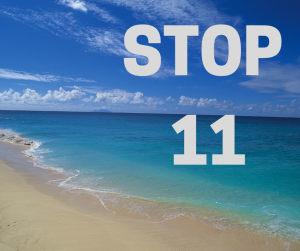 Welcome to the Christian Fiction Scavenger Hunt! If you've just discovered the hunt, be sure to start at Stop #1, and collect the clues through all 27 stops, in order, so you can enter to win one of our top 5 grand prizes!
The hunt BEGINS on 3/14 at noon MST with Stop #1 at LisaTawnBergren.com.
Hunt through our loop using Chrome or Firefox as your browser (not Explorer).
There is NO RUSH to complete the hunt—you have all weekend (until Sunday, 3/17 at midnight MST)! So take your time, reading the unique posts along the way; our hope is that you discover new authors/new books and learn new things about them.
Submit your entry for the grand prizes by collecting the CLUE on each author's scavenger hunt post and submitting your answer in the Rafflecopter form at Stop #27. Many authors are offering additional prizes along the way!
I'm thrilled to host my friend and amazing author Elizabeth Goddard. She writes romantic suspense filled with adventure that will be sure to have you on the edge of your seat.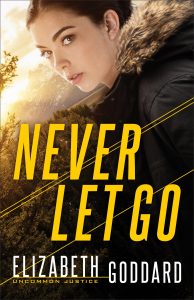 Here's a brief summary of her new release Never Let Go: Forensic genealogist Willow Anderson is following in her late grandfather's footsteps in her quest for answers about a baby abducted from a hospital more than twenty years ago. Ex-FBI agent–and Willow's ex-flame–Austin McKade readily offers to protect the woman he never should have let get away. Together they'll follow where the clues lead them, even if it means Austin must face the past he's spent much of his life trying to forget–and put Willow's tender heart at risk.
Behind the Scenes: Creating a Fictional Town
By Elizabeth Goddard
Thanks for joining me! I thought it would be fun to share a snippet of my author's note from Never Let Go!  You'll find this note at the end of the story, so it's literally "behind the scenes"!
Author's Note
Thank you for joining me on Willow and Austin's adventure. I hope you enjoyed their search for justice as they rediscover their love. I set this story (and the series) in the Jackson Hole region of Wyoming—one of my favorite places. Though I grew up in Texas, we spent many family vacations in Jackson Hole and the nearby parks. Then, wouldn't you know it, I married a guy who grew up in the region and has family there, and it's also one of his favorite places! So, of course, we had to spend anniversaries there. With the splendor of Grand Teton overlooking the valley of Jackson Hole, and the nearby, awe-inspiring super volcano in Yellowstone National Park to explore, I just knew you would enjoy the stunning setting. I also know that words alone could never adequately depict the spectacular landscape.
If you're familiar with the area, you'll see counties and towns that don't exist along with those that do. I took artistic license in creating two fictional counties as well as a couple of towns.
I wanted the freedom to write my two sheriffs and their deputies without stepping on the toes of the amazing men and women of the existing sheriff's departments and law enforcement in the region. I modeled the counties, towns, and even Emerald M Guest Ranch after real entities so the story would flow smoothly.
That said, I made sure to showcase the real town of Jackson. Here are some pictures from my research trip!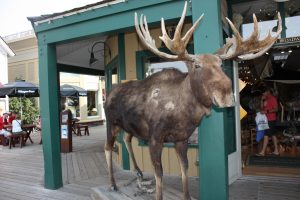 This moose makes an appearance in Never Let Go!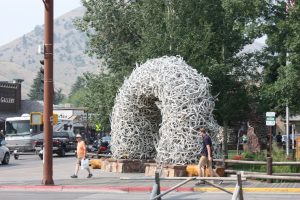 Antlers on the town square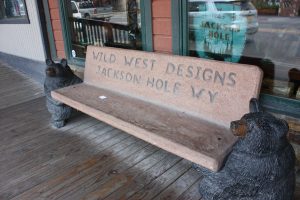 Jackson Hole is definitely the wild west!
Elizabeth Goddard is the bestselling author of more than 40 novels, including the Carol Award-winning The Camera Never Lies. Her Mountain Cove series books have been finalists in the Daphne du Maurier Awards and the Carol Awards. Visit her website at ElizabethGoddard.com.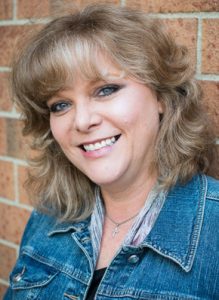 Here's the Stop #11 Skinny:
You can order Elizabeth's book on Amazon, Barnes & Noble, CBD or at your local bookstore!
Clue to Write Down:

our
But wait! Before you go, I'm offering a special prize–a Breach of Trust notebook and a Lone Witness tote! Enter below. US only.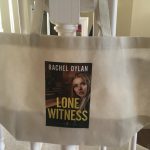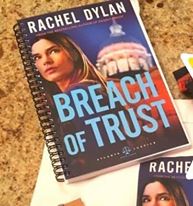 22 Comments
Comments